As the school year winds down, parents begin to wonder what they can do to keep their kids busy. They want their child to be happy and active. They also want a chance to relax and wind down. At Freestate, we understand and that's why we've offered to help.
Summer Fun
This summer, we've made it all about the kids! We will be hosting a summer sports camp geared towards kids. This allows kids to play, have fun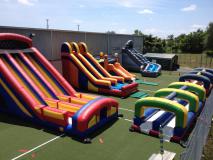 and enjoy their summer! In addition to camp, we have our indoor basketball and field rentals available. Need a cooler option? Try out our famous Waterpark!
See you this summer!